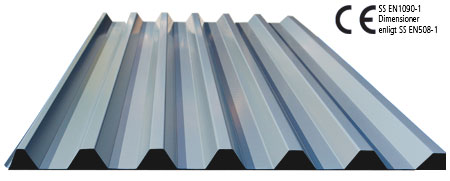 • Areco TP45 is a traditional profile used in stock-buildings.
• It combines a wide covering range with a high bearing capacity.
• A joining distance of 2 m can be achieved already with 0,5 mm sheet thickness because of the design of this profile.
• In our production facility, we can manufacture the sheet with the Arcond anti-condensation blanket.
• Areco TP45 can be produced in lengths up to 11.5 m.
---
| | |
| --- | --- |
| Thickness | 0,50 - 0,65 mm |
| Weight | ca 4,5 - 7,0 kg/m2 |
| Length | 400 - 11 500 mm |
| Covering width | 900 mm |
| Amount of screws/m2 | 5 pcs 35 mm self drilling screws |
|   | 2 pcs 23 mm overlap screws |
| Optional | Arcond condensation protection |
---
Production
Available colors
Polyester
White
AR9010

0,50|0,60
Black
AR9005

0,50|0,60|0,65
Light Grey
AR7044

0,50
Graphite
AR7024

0,50|0,60|0,65
Dark Silver
AR9007

0,60
Silver
AR9006

0,50|0,60
Yellow
AR1002

0,50
Beige
AR1015

0,50
Dark Brown
AR8017

0,50
Wine Red
AR0418

0,50|0,60
Coral Red
AR3013

0,50
Brick Red
AR8004

0,50|0,60
Forest Green
AR6003

0,50
Dark Green
AR6020

0,50
Blue
AR5001

0,50
Dove Gray
AR7038

0,50
Karat | GreenCoat
White
AR9002

0,60
Black
AR9005

0,50|0,60
Dark Silver
AR9007

0,60
Silver
AR9006

0,60
Anthracite
AR7011

0,60
Brick Red
AR8004

0,60
Patina Green
AR6021

0,60
Zinc Gray
AR7040

0,60